Thanks to designsbystudioc.com
Start by cutting two legs for the front at 17-1/4″ tall (a seat height is generally 18″ high). Use 2×2 pine and taper them using a tapering jig on the table saw. Use the legs you cut to make a mark on the headboard legs for the back apron position.
Then cut pieces of old shelving or plywood. The shelving board measured 5-3/4″ wide so rip it in half on the table saw, then cut them to length. Drill pocket holes in each end then thoroughly sand them. Attach the front and side aprons to the legs you cut.
Attach a board between the headboard legs to support the seat –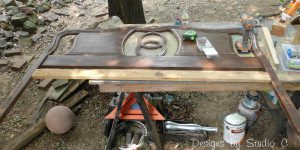 Then attached the entire assembly to the headboard.
Thanks to uptodateinteriors.com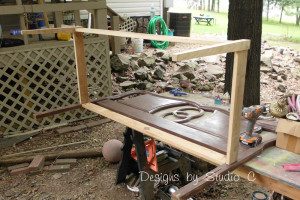 After checking for square,  cut three supports to connect the front and back aprons. Not only do these pieces help support the seat but they also help keep everything square!
Use Kilz 2 primer on the frame and roll it on with a sponge roller.
In the meantime, cut a piece of plywood for the seat 3″ shorter in length and depth than the finished measurement. This would allow you to add a 1×2 to each end so you can use the router to cut a decorative edge on the seat.
Secure the seat to the frame using glue and 1-1/4″ brad nails, then give the entire bench a coat of paint.